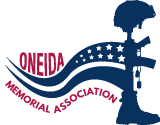 Honoring Oneida's Fallen Heroes
Latest News:
We are gearing up for this years parade. Registration is now open. Sign your group up under the ANNUAL PARADE tab.

We have updated information on some of our fallen heroes. Click on their name to see more. We will continue to add information as it is gathered.

PLEASE JOIN US! Check out our upcoming events under our EVENT tab.

Although we are most known for coordinating the annual Oneida Memorial Day parade, we work year round on various projects. We focus on honoring our our fallen soldiers as well as raising the funds needed to produce the parade. We are always welcoming new members. Many hands make light work!
We would love to have you join us. Please Email us for more information.
We Would Like to Thank:
Blocks & Rocks, Campbell Dean Funeral Home, Community Bank, Costello Eye Physicians & Surgeons, Ironside Funeral Home, Kinney Kar Kare, Liberty Tabletop, Mayor Helen Acker, Nye Automotive, Oneida Healthcare, Oneida Office Supply Store, Oneida Save-a-lot, Smith's Flooring & Paint Center, Strategic Financial Services, The Oneida Daily Dispatch
Our History:
If you would like to learn more about how the Memorial Day Parade came about, or if you would like to find out more about the people behind the scenes, click the button below.
learn more
Our Fallen Heroes:
Here you can find a list of all Oneida area fallen veterans. The list is organized by the conflict in which each service member served and names are listed alphabetically for each conflict.
view the roll call