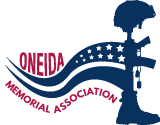 Honoring Oneida's Fallen Heroes
Our History:
If you would like to learn more about how the Memorial Day Parade came about, or if you would like to find out more about the people behind the scenes, click the button below.
learn more
Our Fallen Heroes:
Here you can find a list of all Oneida area fallen veterans. The list is organized by the conflict in which each service member served and names are listed alphabetically for each conflict.
view the roll call
Latest News:
Happy and Healthy New Year!

We are getting excited for this year's parade. Registration will open soon.

Start thinking of creative ideas to showcase this year's theme,
"Their sacrifice, our Freedom"