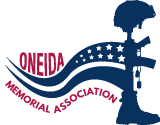 Honoring Oneida's Fallen Heroes
Latest News:
Congratulations to this year's winners:

Adult:
1st—Madison County Moticators Self Advocacy
2nd—Oneida Healthcare ECF

Youth:
1st—Girl Scout Troop 230
2nd—Bogardus Performing Arts

Veterans color guard:
1st—Sons of Union Veterans
2nd—Durhamville

Fire Dept:
1st—Verona
2nd—Sherrill
We Would Like to Thank:
Andy's Towing, City of Oneida Parks & Recreation Department, Kinney Kar Kare, Malone's Services Inc, Mayor Helen Acker, Michael Richards, O. Perry Tooker IV, Oneida City Fire Department, Oneida City Police Department, PAC 99 Bruce Burke & Mike Kaiser, Vineall Ambulance Services
Our History:
If you would like to learn more about how the Memorial Day Parade came about, or if you would like to find out more about the people behind the scenes, click the button below.
learn more
Our Fallen Heroes:
Here you can find a list of all Oneida area fallen veterans. The list is organized by the conflict in which each service member served and names are listed alphabetically for each conflict.
view the roll call