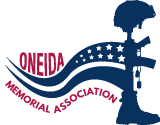 Honoring Oneida's Fallen Heroes
Latest News:
~Reminder: The Parade has been CANCELLED THIS YEAR due to social restrictions imposed by NYS.

~We are excited to partner with The Oneida Daily Dispatch with support of some local businesses to produce a 12 page special edition newspaper. It can be found in the Tuesday, May 19, 2020 edition and online for any online dispatch subscriber. Please use our "contact us" function to let us know if you would like a hard copy. We would like to get a copy to everyone who is interested.

~This year's theme is: Their sacrifice, our Freedom
At an interesting time in history, our chosen theme reflects what so many around the world are doing; Sacrificing for the health of humanity.

It is with a solemn heart that we announce that there will be no formal Memorial Day Parade this year. With that being said, the OMA will continue our mission by honoring our fallen in a private ceremony that stays within the required social distancing
Thank you for your continued support. We look forward to continuing our traditions in 2021.
We Would Like to Thank:
Blocks & Rocks, Campbell Dean Funeral Home, Community Bank, Costello Eye Physicians & Surgeons, Ironside Funeral Home, Kinney Kar Kare, Liberty Tabletop, Mayor Helen Acker, Nye Automotive, Oneida Healthcare, Oneida Office Supply Store, Oneida Save-a-lot, Smith's Flooring & Paint Center, Strategic Financial Services, The Oneida Daily Dispatch
Our History:
If you would like to learn more about how the Memorial Day Parade came about, or if you would like to find out more about the people behind the scenes, click the button below.
learn more
Our Fallen Heroes:
Here you can find a list of all Oneida area fallen veterans. The list is organized by the conflict in which each service member served and names are listed alphabetically for each conflict.
view the roll call